Despite the availability of digital transformation technology, many organisations have not automated their end to end P2P. Yet fully digitising a P2P with an AI-powered solution can strengthen compliance and control among vendors, contracts, regulations, buyers, and accounts payable – just one of the many substantial benefits to be gained through digital transformation.
Procure-to-pay automation
Procure to Pay, often abbreviated to P2P, comprises several stages that describe the end-to-end process from an organisation ordering a product or service from suppliers, through to making the subsequent payment for those products or services.
With the ongoing pressure for organisations to drastically reduce costs and efficiently manage cash flows and supplier relationships automating the P2P process is no longer an option for finance leaders – it is now a necessity. As a digital infrastructure is key to creating strong and resilient businesses.
In a recent survey, PWC found that over 70% of CEOs see digital technology and automation as an opportunity to enhance operational efficiency, customer experience, and innovation capacity. CFOs also need to leverage technologies that are available to seize these opportunities or else risk being left behind by competitors.
"~40% of procurement tasks are currently automatable, and may double in the near future " – Mckinsey 'Shifting the dial in procurement'
Business benefits of automating purchase to pay
Key benefits are incremental cost savings, agility, data-based insights, process efficiency and control, and the use of predictive analytics. Providing new digital skills for employees and saving employee time which can be focused on addressing higher-value activities.
AI-Powered Procure to Pay process automation provides advanced predictive analytics capable of generating new insights to achieve maximum levels of performance and cross-functional integration.
Dynamically predict stock levels to ensure you always have the right goods, at the right time, at the right price
Integrate operations to ensure compliance, control, and transparency
Remove the reliance on large System Integrators (SI), administration teams on or offshore
If you understand the process and are competent in excel you can create enterprise-scale digital process automations with no coding experience
Employees are empowered - with these new digital skills they feel more valued and happier at work, with their focus on higher-value activities supporting business growth
The result is a faster, leaner digitised business with employees creating opportunities to reduce costs and pursue new sources of value.
What is the ROI?
Interested in the ROI? Find out the potential ROI that could achieve by deploying a cloud-based P2P solution with an Automation potential ROI tool and create the business case for Intelligent Automation – it's free to use on the Aurora website.
Automation transforms P2P processes seamlessly
Business needs are becoming more complex. Companies are finding too much time is being spent on low-value tasks and manual activities P2P involves a complex chain of events.
The full P2P process usually involves multiple people across different parts of the organisation and consists of many individual processes which are time-consuming, resource-heavy, and requiring workforce management.
Intelligent Automation processes provide real-time data and insights, enabling better communication with suppliers and all parties, mitigating query exceptions, meeting business outcomes.
Creating an agile workforce with new digital skills where they will feel more valued and happier at work, with their focus on higher-value activities supporting the growth of your business. Rather than relying on expensive third parties, means they will create and control your AI-enabled digital P2P process automations, using a secure, no-code cloud platform.
The AI-Powered P2P Solution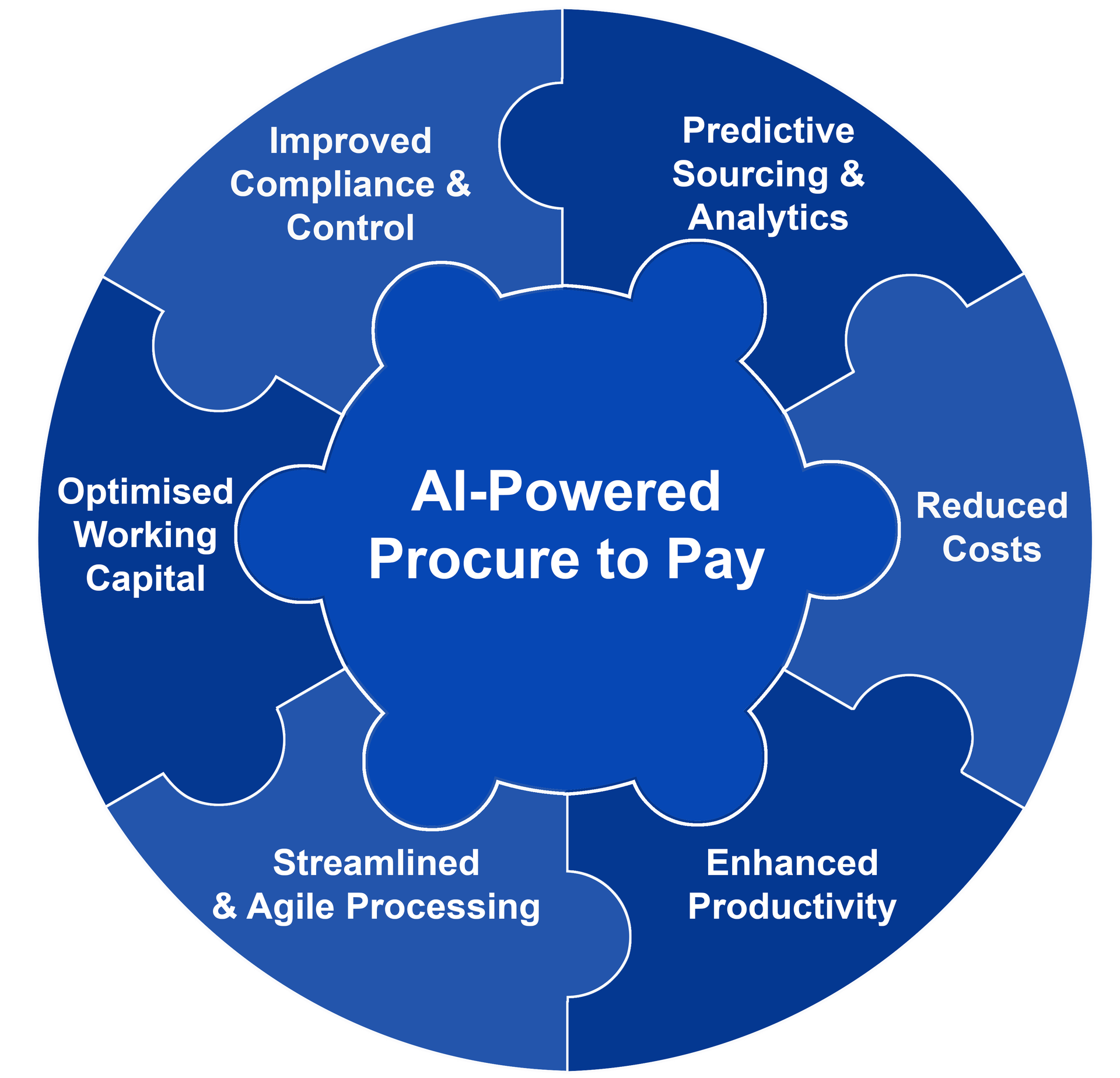 An enterprise-scale P2P integrated solution leveraging an Intelligent Automation platform enables the following:
Streamlined & Agile Processing
Reducing cycle times across the procure-to-pay cycle by using machine learning to enable processes to become more efficient and agile. By empowering your employees they will create and control your AI-Powered process automations allowing you to continually improve and reengineer your procure-to-pay process to deliver just-in-time efficiencies and enhanced customer/supplier experience.
Enhanced Productivity
Automating administrative tasks such as the creation of purchase orders, invoice automation, 3-way matching, etc. with transparency across all stages of the procurement process saving employees' time by eliminating manual tasks; decreasing the risk of error that can lead to duplicate invoicing and incorrect payment amounts or recipients. The result is a faster, leaner digitised business with employees creating opportunities to reduce costs and pursue new sources of value.
Reduced Costs
Through the use of Intelligent Automation, you can remove the reliance on large System Integrators (SI), administration teams on or offshore providing on average a 40 percent increase in annual savings, 30 to 50 percent less time spent on transactional sourcing, and a 50 percent reduction in value leakage. Plus maximise the savings gained through predictive sourcing of the right goods, at the right time, and at the right price.
Optimised Working Capital
The continual pressure to optimise working capital is driven by reducing costs and efficiently managing cash flows, purchasing strategies, and supplier relationships. So minimising volatility and managing all supply chains. Through the use of our analytical dashboard and predictive analytics, you can analyse your sourcing data past & present, providing complete visibility of your procurement activities to enable you to make the right procurement decisions.
Predictive Sourcing & Analytics
Using Artificial Intelligence to predict your sourcing requirements ensuring you are buying the right goods, at the right time and at the right price. With access to 'Predictive Analytics' allowing you to leverage historical data to predict the trends and effects of your spend and sourcing strategies through an agile Business Process Management system.
Improved Compliance & Control
Compliance management is built into the automation ensuring risk management is managed at every step of the process and mitigate all non-compliance events. We can you help you manage your Master Data Management (MDM) requirements using our suite of Intelligent Automation tools. With full integration across your operations to ensure compliance, control, and transparency in every step of the process.
Start your journey
Implement a complete, cloud-based digital procurement solution using Aurora AI-Powered P2P, to fully leverage technologies; artificial intelligence, machine learning, predictive data analytics, and process automation. Enabling you to connect all stakeholders, providing total spend transparency and sparking a chain reaction of improved productivity transitioning the procurement function into a digital value creation engine.
Aurora is an Intelligent Automation specialist with a driving passion to help clients re-imagine new ways of working by leveraging an exciting selection of smart digital technologies and services using the Catalytic Intelligent automation cloud. Contact us today to start your P2P automation journey.